You Load Sixteen Tons, What Do You Get?
It's our anniversary, of a kind. Whether good or bad, I cannot tell you. In the Death March of micro-budgetland, it's just another signpost
you ignore
, knowing full well
you're Not There yet.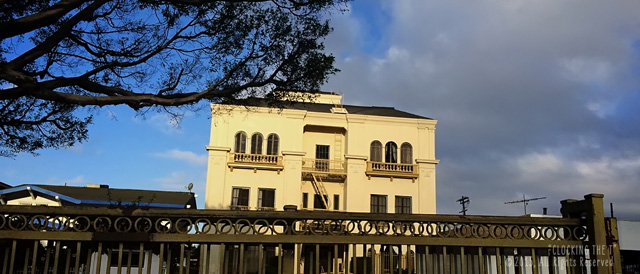 We started principal photography one year ago. I remember driving to the location in the blue pre-dawn, with barely two hours of sleep in me. I'd tossed and turned all night, haunted by every possible contingency that might threaten the day, like
Garry Kasparov
. plotting twenty chess moves ahead. My car was jam packed with polypropylene cases of camera equipment and C-stands. Once there I realized Being Early had backfired:
I didn't have a key
to the location, and so I waited across the street for a half hour (I took that picture above from my car) until my production designer arrived with the only one. By 10:00.49 AM (Thanks, metadata!) we were knocking off our first setup, 6A-1, a shot that's not even in the cut anymore.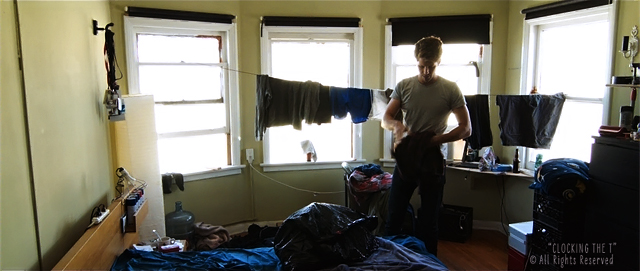 It's hard to believe that
I thought we'd be locked and finished by now.
But then, I didn't see how much damn time side jobs would leech from editing "Clocking The T" or that Media Composer would fuck our project right up against the proverbial graveyard fence, or that the first iMac 5K I bought would be cursed by those
'gremlins on the wing,'
or that the film itself was way more ambitious than a typical eight crew Run & Gun, and especially not that all of this would add up to
months of lost time.
Tennessee Ernie Ford was right
:
"Another day older and deeper in debt… Saint Peter, don't you call me 'cause I can't go… Cause I owe my soul to…"
…this damn movie first.
___
© Michael Thibault 2016, All Rights Reserved. May Not Be Printed, Published, Posted, Transferred, Or Duplicated Without Permission.